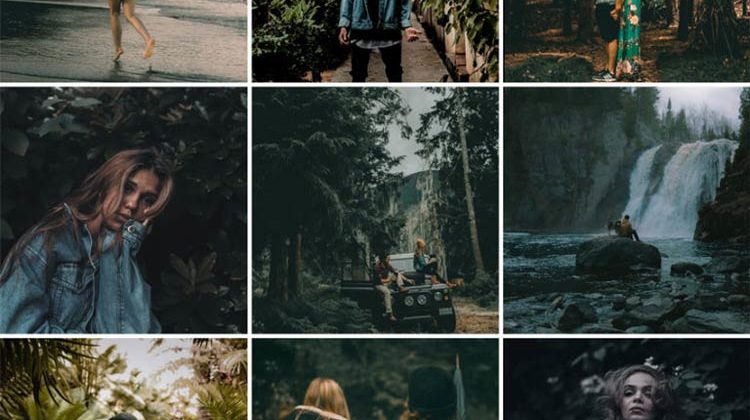 Download my free moody Lightroom presets that will give your photos dark & moody looks in just one click. These presets really gonna give your images beautiful dark, faded & saturated effects making your images ready to tell a story.
You can add dramatic effects, saturated dark moods, muted tones and our presets carefully increase brightness, add warm tones and give a moody feel to images while protecting skin tones. Beautiful warm tones, rich colors, enhanced contrast and much more you can do with these presets.
---
---
Note: This pack now includes presets for Lightroom Mobile and it includes presets in the .DNG format.
Take a look at the GIF below to see what types of effects they can quickly add to your image:
Dark & Moody effect in no time to add dramatic feel so you images can narrate a story.
These presets will bring the exposure down and you'll have dark tones in your image as you see in the before/after imagery below. You gotta set the exposure for every image to get the best out of this pack.
Sometimes the presets will give you a high contrast moody look. But don't worry you can easily create a soft moody look by reducing the contrast. You can also increase the shadows levels for soft effect using the Curve Tool. Download the presets below to get started with that moody look.
Please Note: This pack includes only 1 moody preset in .DNG, .LRTEMPLATE and .XMP format.
Download Free Moody Presets Here
---
Save 10% OFF The Master Collection. Automatic Discount at Checkout!
---
Sale!
Master Collection Lightroom Presets
Make your photo editing process a breeze. Buy the Master Collection today & get over 200 presets. This collection has a variety of presets that will help your images pop. With this bestseller, you get the Dark & Moody Collection, Landscape & Adventure, Cinematic Collection, Light & Airy Collection, HDR, the Awesome Black Collection, Winter, Film collection, Earthy, Wedding and so much more.
What's included!
200+ Lightroom Desktop .XMP Presets (For New Lightroom Classic)
200+ Lightroom .LRTEMPLATE Presets (For Old Lightroom Versions)
200+ Mobile .DNG Presets (For Lightroom Mobile App)
Photoshop Camera Raw Compatible (.XMP)
All 20 Preset Collections
Bonus #1 – 100 Camera Raw Profiles Desktop & Mobile (Value $79)
Bonus #2 – Free Preset Bundle – 55 Presets (Value $19)
Bonus #3 – Neutral & Clean Airy Pack (Value $15)
Lifetime Updates & One Time Payment
Installation Guide for Mobile & Desktop (PDF)
$29.99 Today $59.99 After 4th of July Sale:
02
days
12
hours
41
minutes
09
seconds
Description
The Master Collection includes 20 preset collections compatible with Lightroom Mobile App & Lightroom Classic CC. It has Pastel, Travel & Beach, Moody, Earthy Tones, Minimal Brown Pack, Awesome Black, Cinematic Presets, Teal & Aqua, California Presets, Film simulation, and more preset packs. This collection is perfectly suitable for anyone who is looking to edit their photos on the go & you can even customize these presets with Lightroom as well.
---
What Preset Packs Are Included?
Dark & Moody (Value $15)
Bright & Airy (Value $15)
Cinematic (Value $15)
Earthy Collection (Value $15)
Clean & Bright Winter (Value $15)
Cozy Home (Value $15)
Light & Airy (Value $10)
Fall Collection (Value $10)
Landscape & Adventure (Value $15)
Insta Blogger (Value $15)
The Black Collection (Value $15)
HDR (Value $15)
Minimal Brown (Value $10)
Film & Retro (Value $10)
You'll also get these bonus packs!
---
---
1000+ Images Tested
Our presets are tested rigorously, pretty much 100+ images or more, to make sure they work on a variety of images. These presets are designed to work with Old Lightroom Versions (4,5, or 6). New Lightroom Classic and Lightroom Mobile App. This bundle contains 200+ presets plus we have some bonus presets for you as well. Perfect for any image if you want your photos to stand out. Every preset is unique and applies a different look in just seconds. Also, you are welcome to make any adjustments that you'd like to match your creative photography style.
Why would I buy the presets?
That's a good question and a lot of people say that you should not buy presets. Well, this is true but only if you are a pro or you have a good understanding of Lightroom. If you are a newbie, or you like to spend time capturing photos instead of spending hours in post-processing – then you should invest in preset packs. Not only, you'll learn how to achieve a look by taking a look at the preset settings but you will also learn how to create your own style from scratch.
✅ Don't waste your time spending hours to create looks. Select a preset, fine-tune it and you are good to go!
✅ All our preset packs are well-organized so it's easy to find the preset that you are looking for.
✅ Installation instructions are provided in the PDF guide.
✅ If you need support, we are just a click away. We do our best to respond to emails and most likely you'll get a response from us within a few hours.
✅ Save your time, speed up editing workflow, and spend less time on post-processing.
More info
Once you have made the payment, you can start downloading the presets on the checkout page or you can download them at any time using the link sent to your email.
You can use these presets with Lightroom Mobile App if you don't want to take a subscription from Adobe. This pack contains all presets in .dng format supported by Lightroom Mobile App.
If you have older versions of Lightroom such as 4, 5, or 6 you can still use these presets as we have all the presets in .lrtemplate format which is supported by older versions of Lightroom.
Since 2018, Adobe has introduced a new format of presets, .XMP, supported by New Lightroom Classic. We have presets in .xmp format as well just in case you want to work on New Lightroom Classic.
Only logged in customers who have purchased this product may leave a review.