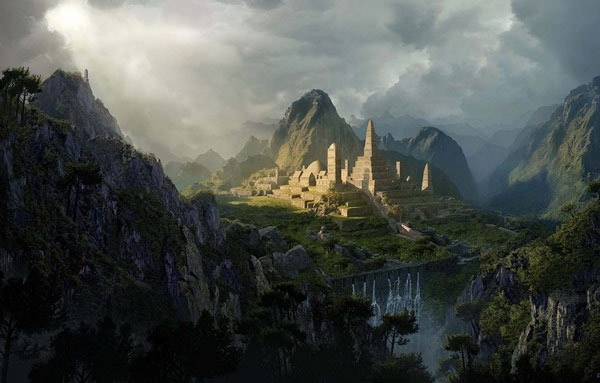 Matte painting is a technique used to create landscape, environment and the world that doesn't exist in real life. With the advent of various 3D and 2D tools, it becomes easy to create a landscape compared to early days where an artist paint matte on the glass. In today's modern world, a matte painter digitally paints landscapes and environment scenes for movies, games and for any other media.
Matte painting tutorials can help you in many ways if you want to become a professional matte painter. This showcase includes 50 best matte painting tutorials to help you get started and not only tutorials the showcase also include the process or breakdowns behind those creative pieces which was created for movies or any other creative work.
The listed tutorials picked carefully to make sure that you can see the production of a matte painting or create your own one using various 3D and 2D software that means you'll also learn about these tools like 3D Max, Maya, Cinema 4D and Photoshop which is essential for painting and for creating compelling landscapes that people has never seen before.
Let's dive into the showcase!!
The best thing to learn anything is to understand the basic of it. This tutorial will explain the basic principles of matte painting like camera mapping, set extension and much more explanation on the basics.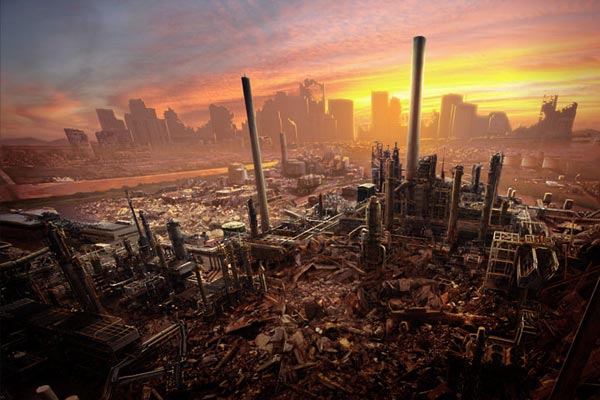 When it comes to digital painting, Brush tool is the best tool available in Photoshop and the settings of a brush make it easier to use. But in this tutorial, Sarel Theron uses extensively Clone Stamp tool for creating an epic landscape which is easy to use. You'll also learn how to lay down basic sketch for final work and using stock photography for adding more details as well as for final touches.
This tutorial will show you how to create a mountain fortress using 3D render and Photoshop. In the beginning, the tutorial focus on the sketching out basic ideas for a matte painting and then after defining the structure of painting then finalize it using 3D render and the stock photos.
Learn how to create humongous tidal wave over the London Tower Bridge in Photoshop. You'll learn how to use wave images to make a single gigantic wave and then masking it properly to blend it on the scene. You'll also learn how to paint the water details and finally adjusting the color of the whole landscape using adjustment layers.
In this tutorial, Didier Konings will show how he created lost and abandoned city matte painting using Photoshop. The tutorial starts from by settings up the composition using street stocks and then remove the unwanted details to get an abandoned feel. After that, he added texture, stock photos and ended the composition by creating a golden sunset light effect.
This making will show how to create an architectural matte painting using Photoshop and Blender software. You'll learn how to create 3D elements using Blender, working with lighting and camera and then use the Photoshop to give final touches to the project.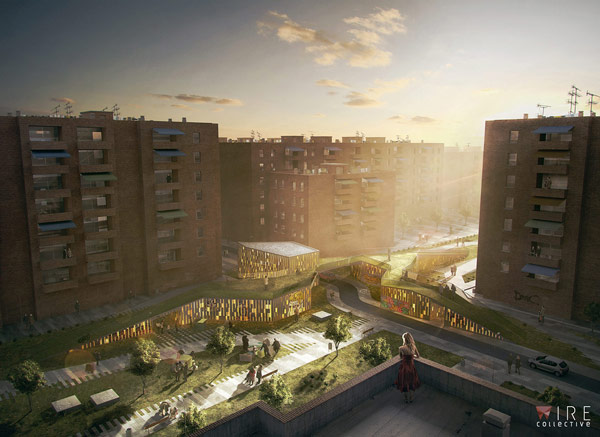 Here is the another making of an amazing matte landscape. You can see the whole process to achieve a realistic and natural landscape environment. The tutorial shows that how photo manipulation and digital painting techniques can lead to amazing results.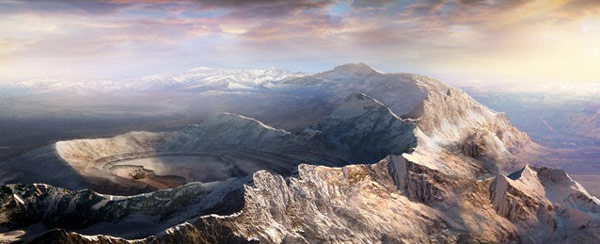 Want to create a futuristic city? Then this making will show you how to create a futuristic city with help of 3D software. You'll also learn about the concept and sketches, rendering, texturing, lighting and much more to become a professional matte painter.
The reference sketch will help you to set up the initial idea for painting and rest you can follow the tutorial to convert a sketch into a scenic landscape.
With the help of this tutorial, you'll learn how to create a dark, atmospheric and scenic landscape in Photoshop. Combine multiple stock images, adjust the elements using adjustment layers and much more to learn from this tutorial.
Get yourself into the feeling of freezing and snowy landscape. This step by step tutorial is easy to follow with proper instruction at each step to achieve a snow covered mountain town matte painting. Most importantly the tutorial covers how you can set up the stock photos in a proper way than using masking and painting techniques to create a cohesive landscape scene.
The making of urban is a perfect example if you are looking for a city matte painting that is covered by nature elements like the water, foliage, and an abandoned destroyed feel. In the making, the artist shows how did he come up with this urban city concept having no idea at the beginning.
In this walkthrough of a digital matte painting, the artist explains the basic painting techniques and using 3D elements in the painting for a compelling matte landscape art.
The most difficult task for visual development artist is to develop an idea for animation based on the characters, concept, and story. This tutorial particularly shows how you can create a visual matte painting concept. The tutorial also covers how you can research about the concept, gathering references and using them properly and using thumbnail sketch for the execution of the concept.
Using 3D software and Photoshop for creating a landscape environment gives you unbelievable results. But having a 3D software knowledge is not enough you need to use it in a right way to get most out of it. In this 3D matte painting tutorial, you'll learn how to combine the power of 3D Maya and Photoshop to create an imaginary landscape.
Create a thundering and stormy landscape with this tutorial. The tutorial shows the creating process of a devastating tornado with dark atmosphere over the lake. You'll also learn how to understand 2D lighting techniques and how to use 3D Max and Vue.
Destroying and desolation scene in movies always surprise us but did you know that you can replicate these scenes using matte painting techniques. Create this meteor impact scene to destruct New York City with this tutorial.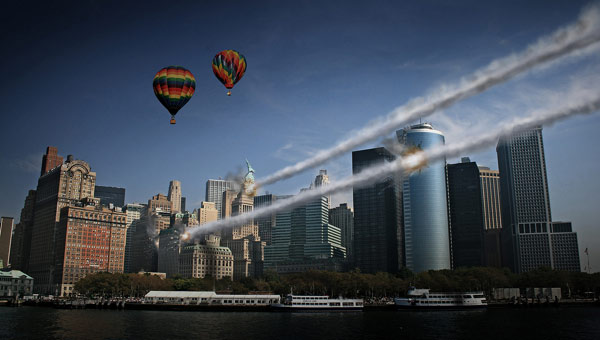 In this tutorial professional concept artist and illustrator, Jonas De Ro shows that how he created the fantasy city matte painting. You'll learn how to use the architectural photos to create a city structure and then match the lighting of the whole scene using a variety of techniques.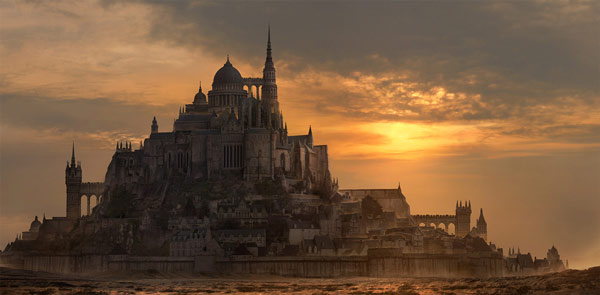 Recreate the destroying scene of a city from the movie '2012'. You'll learn how to combine stock photos to create a city and then drown it in the sea. After reading this tutorial you'll be able you create your own matte paintings.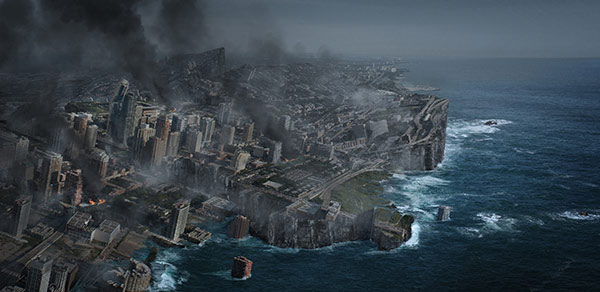 Making of 'Decline of Babe Myth' is the process of creating sci-fi cityscape. In this making Frederic, actually, converts the city image into the sci-fi one by adding hovering spaceship and creating a battle war scene of the city. Also, he used the 3D elements for the spaceship and for city antennas to give a futuristic and battle feel.
Making of Barbarossa is a matte painting for movie 'Barbarossa'. The artist explains the creating process behind this piece which shows an ancient scene of Rome.
Want to create an other world planet scene? In this making, you'll learn about the creative process of a distant planet. The tutorial is totally based on painting like it start from rough sketch line and then the artists adds colors and lights to finish the environment.
In this walk-through, Jeremy will show how he created a mysterious and ominous scene depicting an eerie castle. You will learn how to find references for an artwork and also some tips about gathering stock images. You'll also learn how to add color values and giving final touches properly.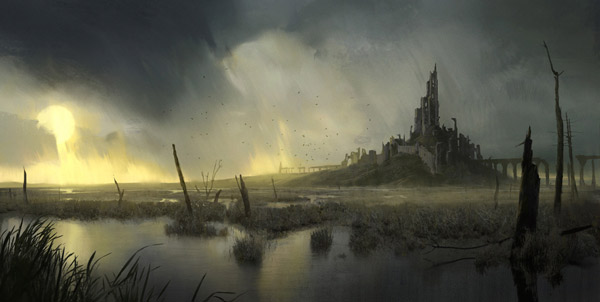 Most post-apocalyptic matte painting created the with advanced 3D mediums like the 3D Maya, Max, Cinema 4D but you also need advanced knowledge to use them. But this tutorial only uses Photoshop for creating an apocalyptic scene of an old cathedral. You'll also learn how to correct light and contrast, perspective and applied the same amount of coloring to everything.
In this tutorial, you'll learn how to create a misty landscape environment with help of 3D renders and stock photos reference. The tutorial has video content, as well as written step by steps.

Sci-fi cityscape scene looks great you've probably seen it while playing video games and watching movies. But ever wonder how the artists create them for the game environment or for movies?
In the making of Sci-Fi cityscape, Christian Hecker reveals how he used the 3D modeling techniques for Sci-Fi City matte painting. The tutorial has two parts, first part shows the use of 3D models sand in the second part use Photoshop for final touches. Basically, the tutorial emphasizes the use of 3D and how it can give a splendid result.
Create a post-apocalyptic panoramic matte painting scene which is totally covered by the snow. The tutorial has part 1 as well that will show how to setup a panoramic landscape view.
In the breakdown of 'Spider's Web,' you'll learn how to create a matte painting of dark cave. The making will show how to use the rock stocks and texture, sketching techniques to create dark, hideous cave concept.
The tutorial covers everything you need about creating a futuristic matte painting in Photoshop. Use photo manipulation techniques, some stock photos, include a bit of painting practice and how you can create a futuristic building with Photoshop.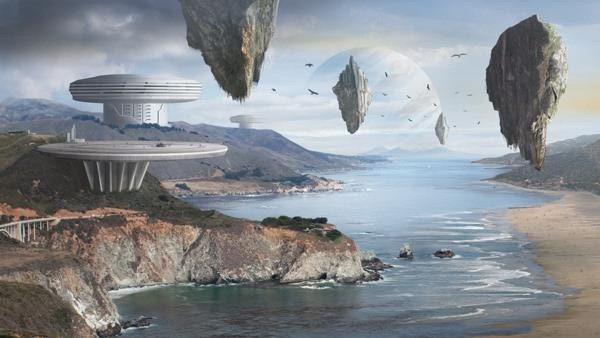 You'll be amazed to see that how you can create forgotten abbey only using one ruin stock image. Firstly, you'll extract the ruin from its background and then the addition of sky take place. At the end, you'll learn how to paint details and lights. A graphic tablet is highly recommended to follow this tutorial.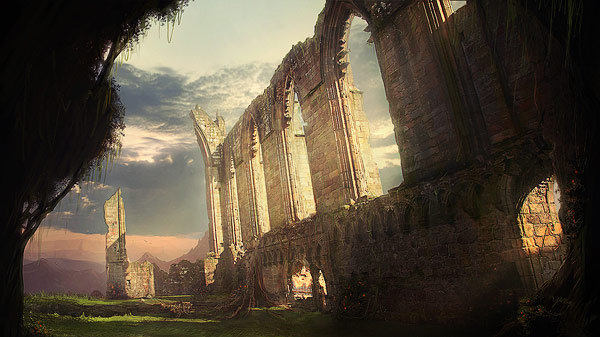 The advanced tutorial teaching you about creating cave city landscape environment. The tutorial has a lengthy and detailed step, as well as video component as well.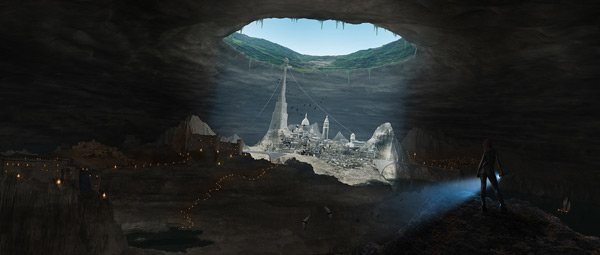 Another futuristic matte painting but this one is advanced and fantasy. The tutorial also used Cinema 4D models which you download from the tutorial assets. You'll learn how to add hovering spaceships over the city and other elements.
Get yourself into the ancient time with this tutorial. The tutorial shows the matte painting of wonder of the world Tajmahal. The tutorial covers the basic ideas and tips for matte painting and if you are beginner then it surely helps you and it only uses the 2D tools.
Learn how to set a national history museum in dark natural environment. Marco Bauriedel shows the entire creative process behind this outstanding piece and he also gives the tips for coming up with this landscape design.
Simply and easy to follow the tutorial in which there is only two images have been used. With helpful video, you can easily watch the entire creating process.
Sci-Fi themes landscapes are always interesting and fascinating but coming up with a unique sci-fi concept is a daunting task. This tutorial will show how to create a sci-fi matte painting and then animate it for a moment using the Nuke software.
In this basic tutorial, you'll learn how to extract the objects from the background and then used them into the scene using composition techniques. The tutorial is simple and can be followed by beginners easily.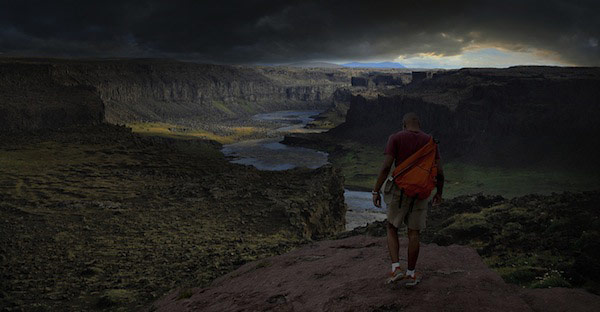 Erik Shoemaker will show you how he creates a realistic panoramic matte painting in Photoshop. He combined a bunch of stock images to create this landscape. He will also show you how he turned the day into the night and how he managed to change the color of the whole landscape.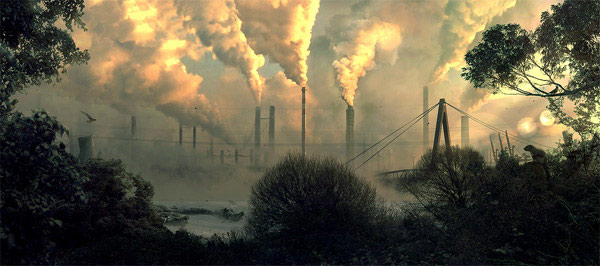 This apocalyptic city street matte painting is based on the use of a building. Using some brushes you will learn how you can destroy the city, remove the unwanted details from the street using painting techniques and much more to learn from this tutorial.
Create a sci-fi inspired matte painting with the misty atmosphere of the mountain. You'll also learn how to work with 3D Max and V-Ray for creating and rendering the objects. Also, use stock photos and texture for adding more details to the environment using Photoshop.
Francesco Corvino shows the breakdown of this landscape that how he combined the photo manipulations, 3D and digital painting techniques for Aaron Sims company project. He first uses the photos to create the base for the scene then he painted some details and finally he used 3D elements created using 3D software.
Learn how to create Serene Panorama using several stock images. The tutorial will help you to setup a city landscape view, create a reddish sunset light effect and bit of retouching to the scene.
This tutorial is all about learning about creating a night time matte painting scene. You'll learn how to paint lights, taking care of minor details, creating a night scene and how to paint realistic highlights using the variety of brushes.

In this tutorial, you'll learn how to turn a museum into the destroyed one. The tutorial starts with the cleaning up the unwanted details like the people inside the museum, then basic lighting is created and finally, the most important part, destroying the museum and adding plantation, is executed.
In the making of point of view, you'll learn how to use speed painting techniques to quickly explore the ideas for an environment, then defining the color palette in order to see the sketch properly. At the end make some correction on the shadows and light in order to finish the atmosphere.
In this making, you'll learn how to create a stunning matte painting for movies. The tutorial used the golden rule to set the perspective of the painting, gather stock images and finally get into more deeply by adding more details to the landscape.
Conclusion
These are the best tutorials which can improve your matte painting skills. Remember the showcase would fail if don't give try to these tutorials (pick any which one you like). Also, don't forget to share the showcase with the world if you really like it.